The HALLO: collective aims to reactivate publicly inaccessible spaces in the city of Hamburg. The collective organises a yearly festival, HALLO: Festspiele, and it is working on a strategy to develop long-term concepts for unused spaces and to raise funding to support its activities. Among their projects, Schaltzentrale, an experimental neighbourhood office, is specifically dedicated to giving space for art creation and sociality in Kraftwerk Bille, a former power station in a transforming neighbourhood defined by industry and businesses. The main goal behind all the activities is to manifest common good-oriented ways of space production, for example by securing a big part of the Kraftwerk as a common (WERK: House of New Work) or creating a commonly designed public park on a former recycling site next door (PARKS).
What is the HALLO: collective and how was it formed?

We started in 2014 by inviting people to join an open group. A lot of the joining members were already working in the organisation of big festivals and we planned to use these skills to conquer unused space. In the beginning, we were organising small events moving across venues around the city and we called them Hallöchen (small Hallos). We started off by financing the first HALLO: Festspiele ourselves: we had a one-week festival which included building it up and tearing it down as part of the public program. For the following year's edition, we received 56,000 euros from the biggest fund for the independent scene in Hamburg. In organising the festival we maintained the same concept but we used the fund to invite many partner organisations that are also working in artistic space production like Plataforma Trafaria from Portugal, Yes We Camp from France and we focussed on experimental architecture that year.
Since the very beginning, we have been searching for a long-term venue for common use, but at first, we didn't have any money available. Meanwhile, we mainly tested out modes of organisation and communication and strategies of how to artistically open up spaces. In 2016, we accessed Schaltzentrale, a venue located in Kraftwerk Bille that was bought in 2015 by MIB, a real estate investment company that also owns property in Leipzig and in Nürnberg and uses subculture as a mean to activate old industrial sites and thus increase their property value. That's why the owner was willing to give us the space for free for temporary use, benefitting from our work to raise awareness about the site. We only pay utilities here but can also get evicted every year. This allowed us to create a concept for this space and we established an experimental neighbourhood office. Since 2018, in order to counteract the speculative mechanisms and secure a big part of the Kraftwerk permanently as a common, we – together with old and new users – have organised ourselves as WERK: House of New Work to buy and run a part of the Kraftwerk as a cooperative. By creating these spaces with a network of people who live and work in the area, we want to redefine the meaning of work by adding cultural, associative and educational work to the classical definition of industrial and "regular" businesses. By emphasising that it's a working neighbourhood that is also producing space, we don't just want to intervene in this specific building but to have an impact on the entire area by using this building to support the growth of a network around it. In 2020 the owners sold the whole building to profit-oriented investors. The new owners have different plans and our work on site is threatened even more than before.
What type of contract do you have for this building?

The former owner took time to decide on the exact building function and wanted to start a refurbishment only once the space has been rented. Now it apparently got too risky for them, so they sold it. All of these processes gave us time to establish our work. For our neighbourhood office, Schaltzentrale, we always have a one-year-long contract which can be terminated with six months' notice. The new owners informed us now that the building will most likely be demolished in 2022. Up until now we have been using the entire Kraftwerk Bille for temporary projects and made it accessible for other users as well. This type of use will also end when the renovation will start. All reasons to buy a big part of the building as a cooperative with working neighbours.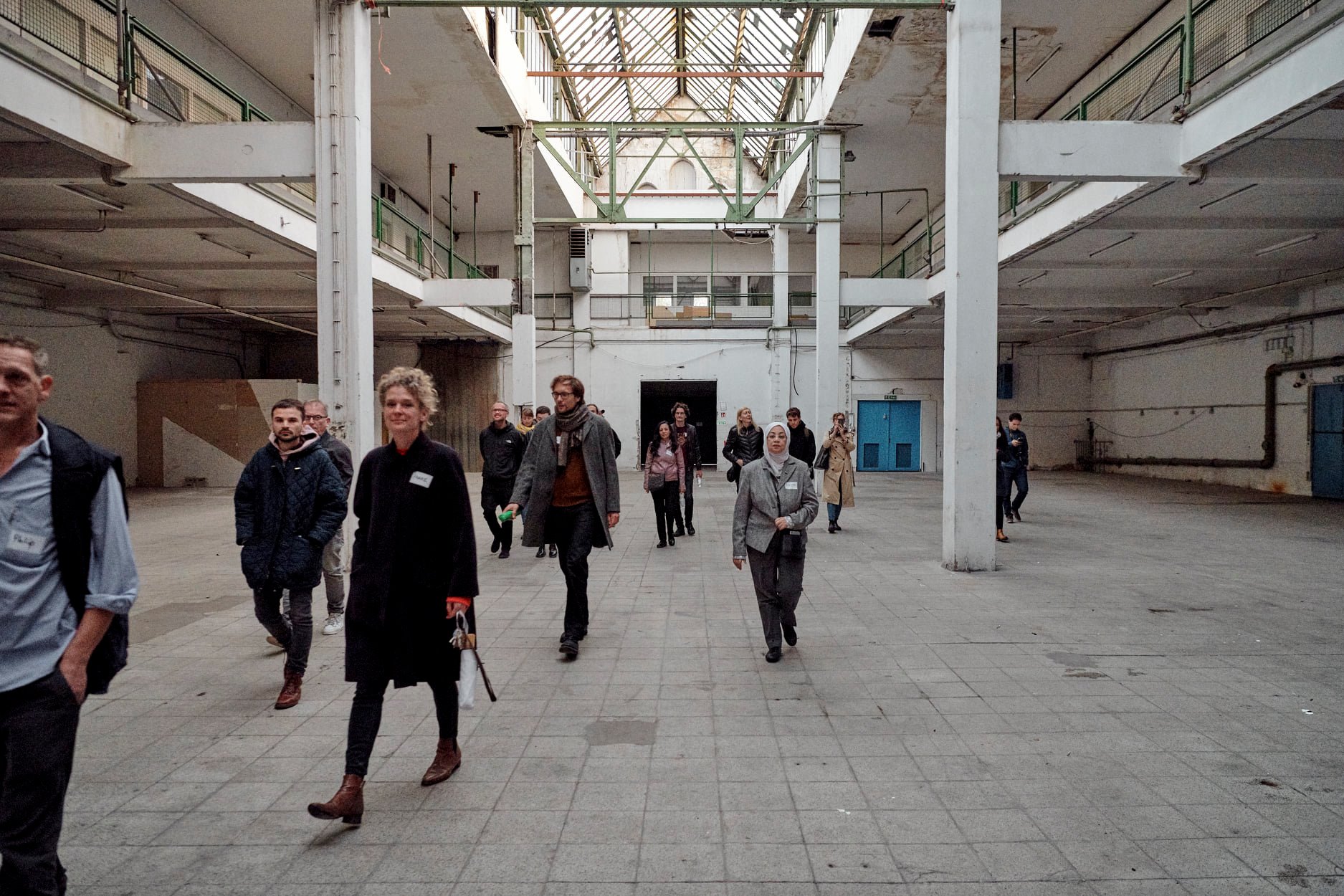 Who constitutes the neighbourhood office?

This is a group of culturally engaged people such as artists, composers or writers, but the group is growing and there are also members with diverse backgrounds and practical expertise which are essential here. For example, Tommy, one of the very few people still living in this neighbourhood, used to work in airplane construction but he also has experience as a chef and as a DJ. Another member of our team is the technical director of one of the biggest museums in Hamburg and yet another is an Arabic and English teacher.
Since we got access to this space in 2016, the team has been evolving because there is always the possibility of just coming by for lunch with the team, people come and work in the area, or in the house itself. Many team members have a background in culture, and not in urban planning and this is why we have been mainly hosting artistic events for the past four years. In 2017 we received a big fund for Schaltzentrale to strengthen our collaboration with refugee shelters nearby (one of the only residents in this industrial area), which was cut down a lot the following years. We would wish for long term funds that understand the work of a transdisciplinary neighbourhood office for the common good and thus addresses all parts of the neighbourhood as equal.
How did you become a protagonist of the area?

In the past, this area used to be inhabited by about 70,000 people, but after the Second World War bombing, only a few residential apartments were left. The city's recent urban development program wants to implement more residential buildings in this area and to attract population here. This location is mentally perceived as very far from the city centre because it feels deserted, but we are just one train stop from the main station.
We started by coming here with an agenda – we wanted to host temporary events to start a long term opening of space – so we wanted to first understand the context and get to know people. To get in touch with local organisations and also for practical reasons, we started to collect a lot of material from the companies in the neighbourhood. There are many industries around and they are always happy to give away something. At a certain point, our association was established and we began to further explore the neighbourhood through events, by frequenting the local bar to meet people and going for long walks around. Some of us were already working or living here already by then.
From the beginning, we foresaw huge changes in this area, since a big urban masterplan is coming in effect right now, and we have already experienced some: for example, the rowing club is endangered and might be replaced. Many artists living in this area have been threatened by eviction as well. In 2018, together with HafenCity University, we started to develop a mapping process to map the changes and potentials of the waterscape of the river Bille that is running through the whole area. Before, we were focusing more on building a network but now we are getting into the phase of concretely discussing what is happening in the area. It is an exciting change: we were tired of doing just pop-up festivals that are always likely to accelerate gentrification and wanted to develop a concept that is more connected to the place and which contributes to a common good-oriented development of the area.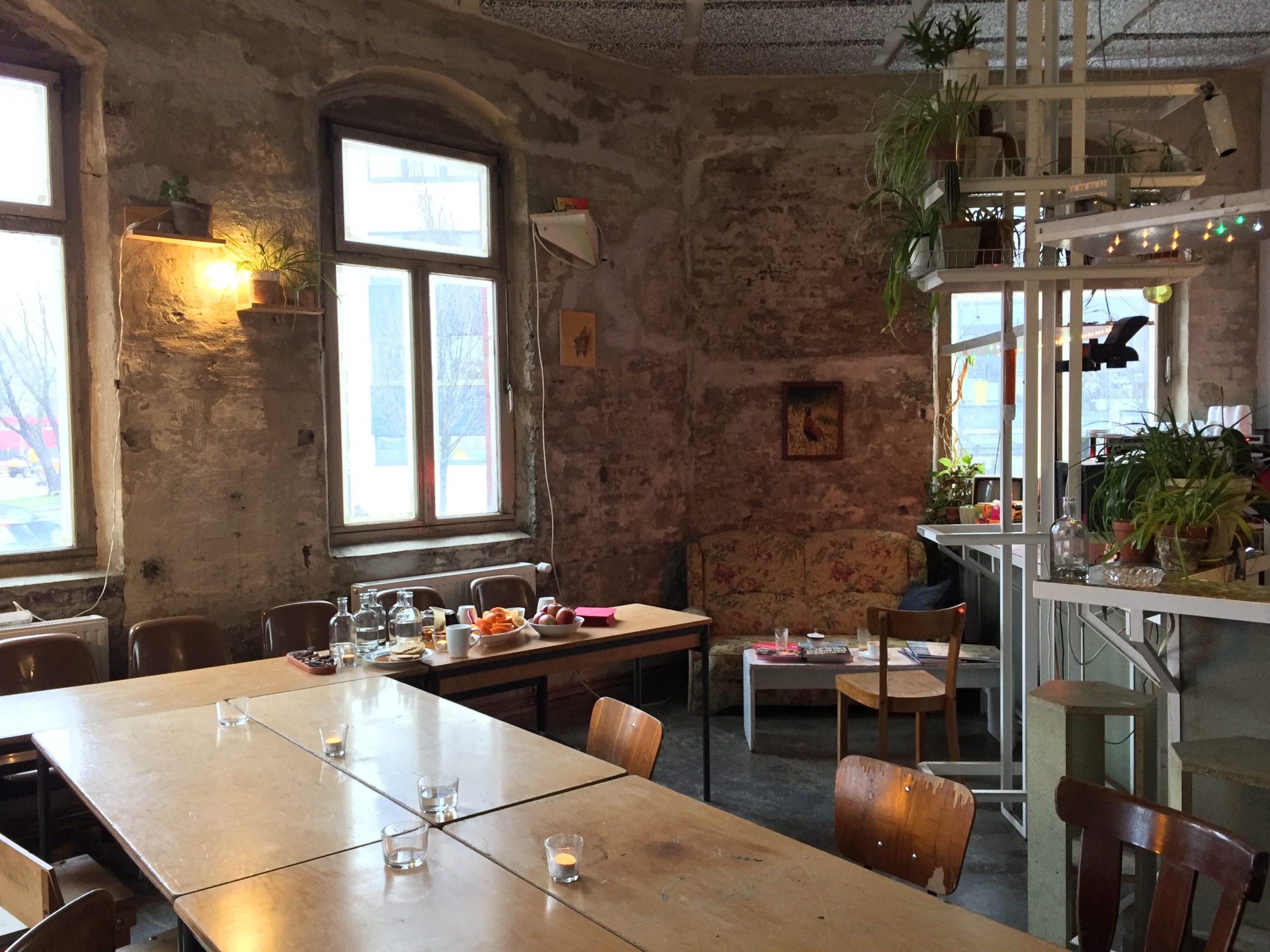 What is your relationship with public administration and other institutions?

We got in touch with politicians for funding and to get permits. They progressively improved their opinion on us and this helps us in accessing public tenders. We thereby won a call  for developing a park in an old recycling area right next to the Kraftwerk and to communicate a whole new green corridor connecting the three main waterscapes in Hamburg. The recycling site is in transformation and the administration is planning to have 5-7 years of temporary use in between. As part of PARKS – a local group that is far bigger than HALLO: – we are now continuously working on redefining the site as a long-term project and secure it as a common. These projects help HALLO:  grow out of Kraftwerk as a space and most importantly to grow as a neighbourhood network that is supporting its members that, in turn, support each other.
In 2017, we started an auditive exploration of the space with our festival HALLO: Festspiele. This auditive program consisted of installations, walks and concerts. Because this program was very specific, it received big financial support from the state and it helped us improving our reputation especially in the eyes of the city council and of our landlord. Since then, we connected with other artists who work in the many empty spaces spread in Hamburg, and we are now discussing how to  take over one of the buildings as a cooperative.
In summer 2018, together with neighbours like the design studio blackSchwarz and Amelie Rost, an architect specialised on floating architecture, we built a pontoon on the river raising the theme of water as a public space. We also had an intense and fruitful collaboration with HafenCity university, Antje Stokman, Kathrin Wildner and Dagmar Pelger in particular, and started a mapping process of the waterscapes of the river Bille. The summer was extremely hot and we had a wonderful festival: people were swimming in the river and going on all sorts of floating vehicles. Usually, people can't reach the water as the river has always been only used as an industrial system of transport. At the moment there are only two entry points to the river, one is an informal access to the water from a small park and another one is from the rowing association RV Bille. Three years later, we're still working on creating a commonly designed access to the water and there's signs that this will be supported by the city authorities.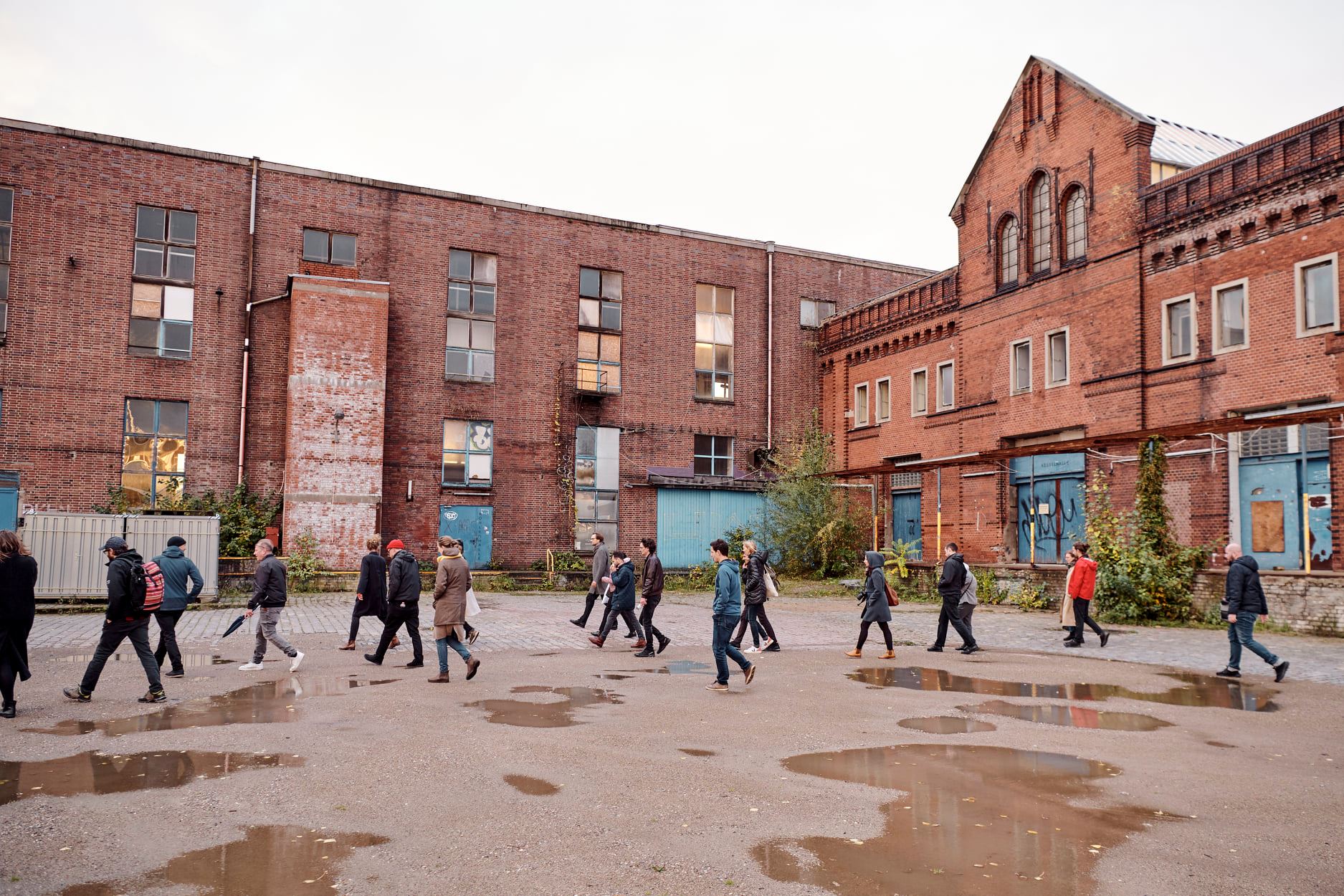 What are your next steps?

After three years of voluntary work, including taking part in the exchange program "Actors of Urban Change", hosting international and local workshops (e.g. with iac) and applying for a lot of funding schemes, at the end of March 2021, the Federal Ministry of the Interior announced this year's selection of "National Urban Development Projects." Among other winning proposals is our project application "WERK – House of New Work" which we submitted together with the borough of Hamburg Mitte. With five million euros from the federal government and additional co-financing from the city of Hamburg, the renovation and co-productive development of one of the buildings on the site can be financed over the next few years.
We would like to take over a part of the Kraftwerk Bille areal in Hammerbrook as a cooperative (WERK eG), redevelop and run it in the long term: as an open, affordable and diverse space for common-good-oriented work. For us, this requires a model of common ownership and organisation – to secure WERK as a common good. We are now continuing to negotiate with the owner, municipal representatives and foundations about the cooperative takeover.
Interview by Levente Polyák with Dorothee Halbrock and Alice Barkhausen, co-founders of HALLO: on October 26, 2018. Edited in April 2021 by WERK-team members.
This article appears in the book The Power of Civic Ecosystems: How community spaces and their networks make our cities more cooperative, fair and resilient.