How can a complicated, abandoned parcel of land in a dense urban tissue gain new life through gardening and housing? Ferme du Rail is an agri-urban space in the 19th district of Paris, addressing the challenges of homelessness, urban agriculture, gardening, social integration and circular economy. Selected within the framework of the project "Réinventer Paris" (Reinventing Paris), a hybrid combination of agricultural production, food culture, gardening, student housing and alternative employment will change the face of the Petite Ceinture. 
La Ferme du Rail, using a long-time abandoned parcel of land along the city's disused Small Belt Railway, is designed for the inclusion of the weakest layers of society. It is run by a consortium of protagonists with strong local roots – architects Grand Huit, landscapers Mélanie Drevet, social employment enterprise Travail & Vie, social workers Atoll 75 and the housing association Bail pour Tous – and it aims at creating inclusion and job opportunities for the most vulnerable residents.
Thanks to a partnership with the Municipality of Paris, the parcel and other wild plots of land that are scattered across the area will be used by the residents for farming, and vegetables grown here will be served at a local restaurant.
Social Integration
By putting together many of the topics related to environmental and social awareness in the urban context, Ferme du Rail aims to address the generational and social issues especially faced by younger people. They plan to accompany the homeless through a path that will give them the chance to have stable jobs – a project they run together with Atoll 75, an association that strives to guide vulnerable groups of society through bureaucratic mazes, health solutions and job trainings.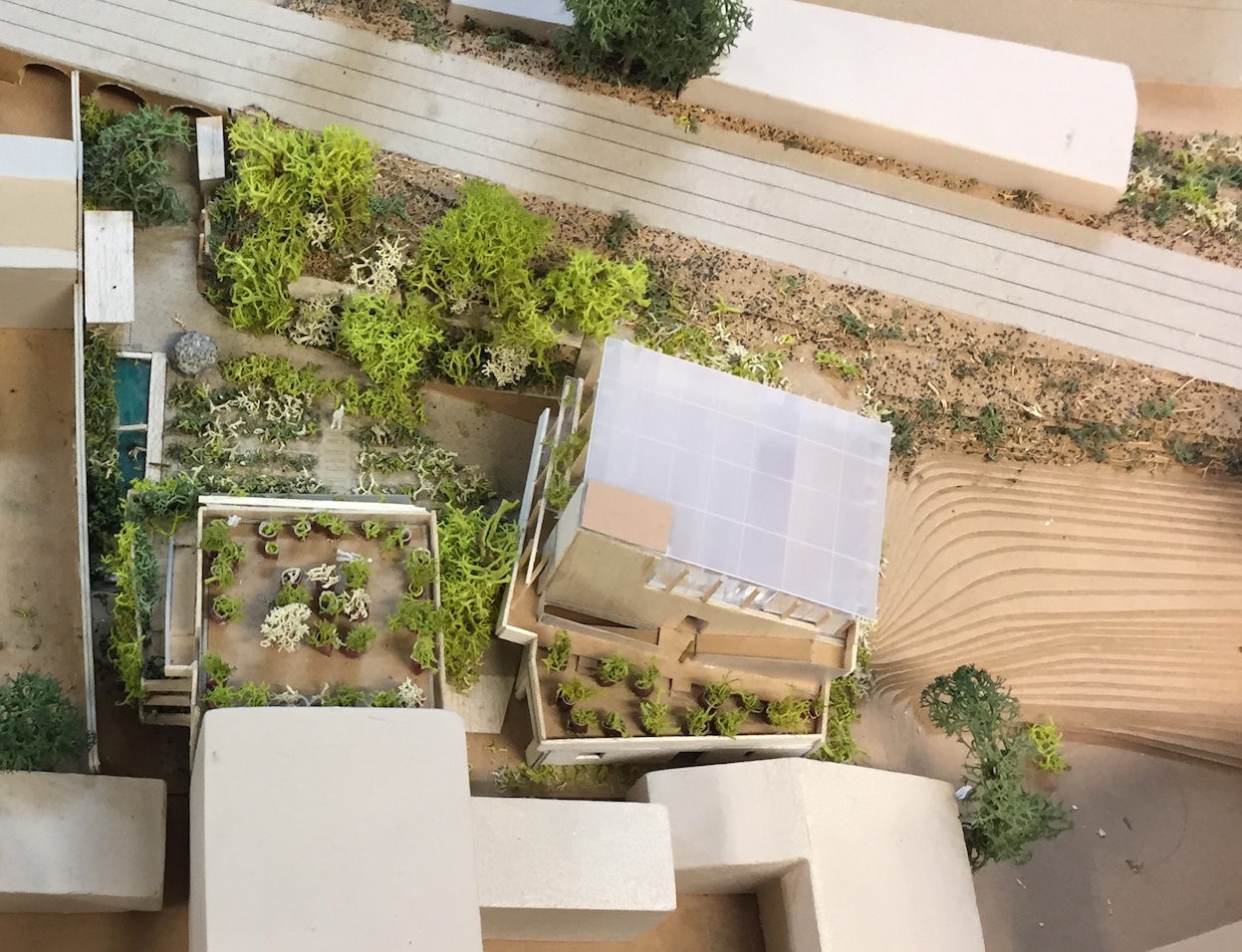 Ferme du Rail will provide housing for 15 homeless people, in addition to 5 more positions for students from the École du Breuil, the school that trains gardeners, landscapers and horticulturers in the city of Paris.These students will live here for a year and at the end of their stay they will write a report and run experimentations. All program participants learn truck and urban farming, they collect organic waste from about 30 restaurants in the area by bicycle and they also compost, both manually and by using a special device machine in case the volume of waste is significant. Compost is also necessary here because the soil in this area is pretty polluted as the original site was a truck stop. Since this territory was not suitable for agriculture, they had to lay a substrate using compost mixed with local unpolluted land. This way they activated a circular process, using waste from the city to create a rich agricultural soil. As there was no time to purify the soil via phytoremediation they decided to level the ground, isolating it from the polluted part and building cultivation mounds over it so that perfectly edible vegetables could grow on it. Aquaponics and other techniques are also used for growing tomatoes and other vegetables.
The perfect spot
Due to land use regulations and the proximity of the rail tracks, it was not possible to construct here any new building exceeding a certain small size, so investors were barred from building large development projects at the site. Last but not least, the place is literally surrounded by nature, making it a perfect spot for such a project. Ferme du Rail will be directly connected to the Petite Ceinture, still a property of SNCF (French Railways) and there already is a lift for wheelchair access to the promenade just next to the premises. On the other hand, the project's protagonists are very concerned about gentrification, so they are trying to keep services as affordable as possible while giving an added value to all their activities.
The team intends to generate revenues by selling services for the maintenance of green areas, and they also hope to income by introducing a new law which would pay operators for collecting and composting. The team will also focus on collaborating with social services, as it would be useful to contrast local problems with drug addiction and help improve the quality of living in the district.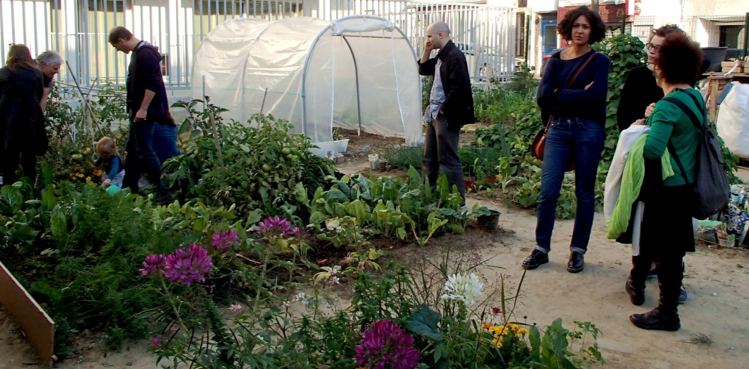 The farm itself is where most of the activity happens: all the people who work here pass through the main building where farming trucks and bicycles for compost collection are kept along with all the other tools that are necessary for working on the fields and on the other green areas of the district. In addition to this, there is also a restaurant adjacent the living units – of course, the food comes directly from the fields and not only does it function as a canteen for those who live and work here, but it is also open to the public at affordable prices. There is also a greenhouse which allows for variation in the production and protects the most delicate sprouts.
A training program with gradual workload
When the programme participants first arrive here they get familiar with the place through a training program called Premières Heures (First Hours) that gives them the opportunity to work one hour per day and increase their shifts step by step. Those who live here will also work off premises, for example they will help with the demolition of buildings that cannot be used anymore and recycle whatever that can be recycled, once again contributing to the circularity.
There are several positions available: depending on the age and on the personal situation of the people, the team always decides together how everyone can help – it is a continuous experiment. Also, anyone can apply and come here. Of course, those who come are generally more interested in plants and vegetables than others, and that is already some kind of self-selection. The rest of the site stays open to the public except for the living units and the physical space where people work, in order not to disturb them or invade their privacy.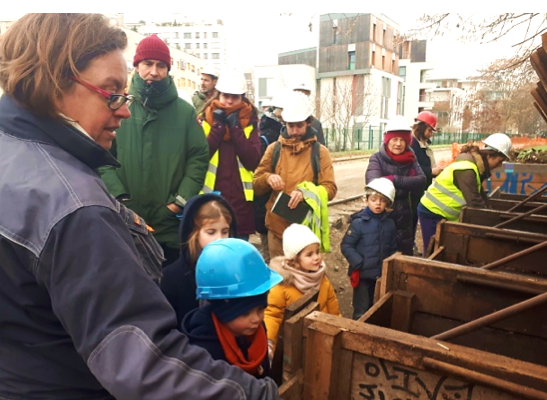 Guided tours are being organized since many residents have already shown signs of interest in composting processes, so awareness raising is done by showing them how composting and accelerated composting work. This will also allow the place to be a lot more accessible – a very good strategy for the restaurant, in the hopes that this will serve as some kind of attraction for the residents, thus fostering its approval.
From architecture to economic, social and political implications
The preparation work lasted for over three years, after a long and difficult competition process. Once the mission was well defined, it influenced the process of building the physical structure of the place, analyzing the various factors that determine its economic, social and political implications. It initiated an atypical synergy because everyone brought their skills in and the scope of the project became much broader and much more specific for its context, as most of the people involved are locals.
Even the construction site itself was special from the start, as it featured the inclusion of environment-conscious construction companies using bio-sourced materials in order to be coherent with the farming activity.
For example, they used bundles of straw as part of the construction because they are very effective, easy to find, versatile to use and since there is a lot of it in the surrounding area they could manage to reduce transportation pollution. Its only downside was that straw is very sensitive to water, so insulation played a crucial role throughout the whole construction phase.
In addition to this, the team hired such companies that could centralize as many aspects of the work as possible, so that the whole process could flow smoothly and with the least possible stress. There were even people who specifically took care of preparing the food for the workers, and this helped a lot in creating a very pleasant ambiance.
Social housing, employment and farming: diversifying funding sources
The Municipality of Paris granted the consortium this plot of land in exchange for a relatively cheap rental fee. The project also received funding for the social housing part, as there are several programs that focus on this aspect. Finding funds for farming and gardening activities, however, was a lot harder because this is a one-of-a-kind project, so it was very difficult to find anyone who would help build the facilities themselves. The private foundations that supported the project rather gave trucks and tools, for example, or they participated in funding activities, but it is just not usual for them to invest in renovations, let alone constructing new buildings. Eventually, thanks to one person from the team who specifically worked for raising funds, the project managed to receive all the necessary fundsfrom a variety of sources that granted relatively small amounts to the Ferme du Rail, so that the project does not owe one enormous sum of money to a single big financer.
Interview with Clara Simay, architect at Grand Huit
Location: Ferme du Rail, 2 bis Rue de l'Ourcq, 75019 Paris, France
Make a donation to Ferme Du Rail!