Spores Home is a self-sustaining co-living space in Spain. Founded by an innovative entrepreneur, it offers affordable housing to people from various ways of life. With no on-site management, residents rely on common sense and self-initiative to co-manage their dwellings and common spaces. The community thrives through trust and collaboration, contributing to a unique ecosystem of shared knowledge and skills. The housing project's business model includes tailored pricing tiers and the design promotes sustainability and community-building. Spores Home is a contemporary idea of a home that fosters empowerment and comfort.
My journey to Spores

A witty illustration of the generational problem of millennials is the famous meme saying that I was born too soon to be an influencer and too late to own property.
Today's housing system is not set for singles at the beginning of their career: this is not only true in Hungary where I come from but practically anywhere. You are full of enthusiasm to do your work,  you give  a lot of your energy and commitment and, in return, you cannot pay the rent at the end of the month. Or at least this was my case and many of my peers not living as a couple, without a family or in inherited property. So in search of a more affordable way of living, I found an ordinary house in an ordinary seaside village in Spain close to Valencia. But Spores Home is everything but ordinary! A self-sustaining co-living project, it is a second home to many since 2017.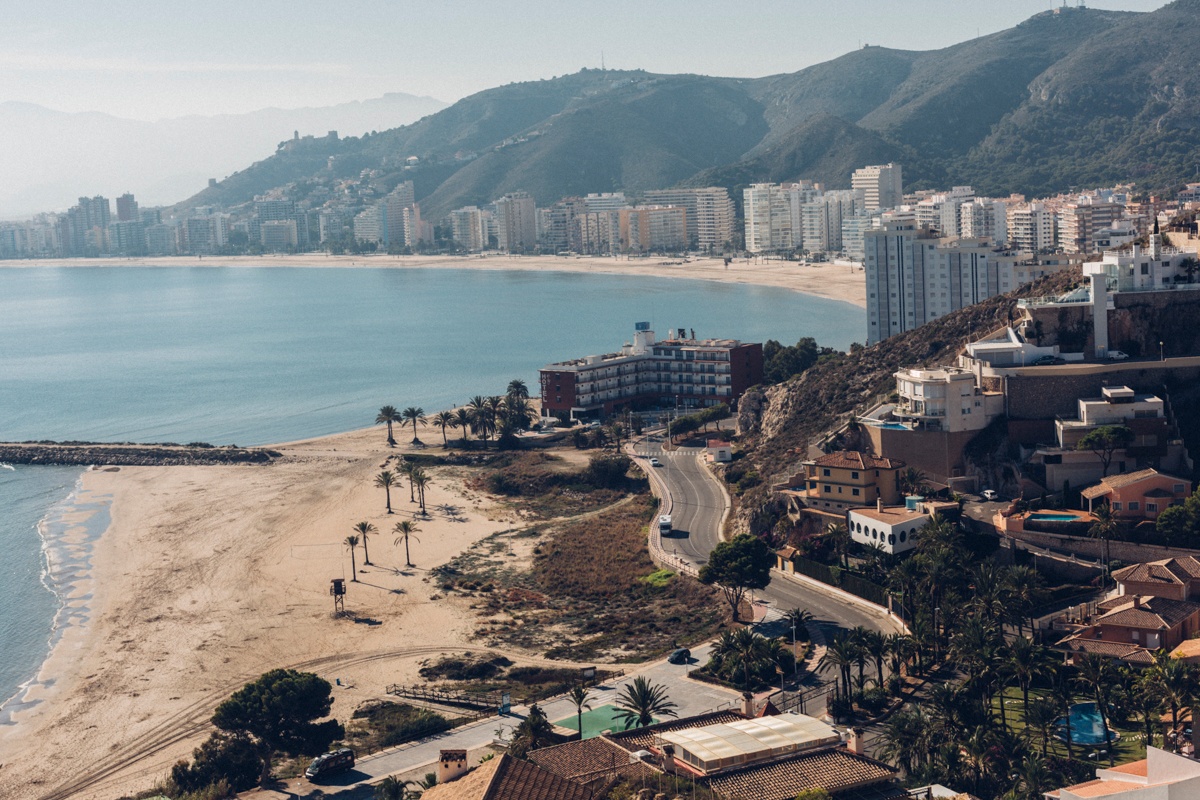 The Spores Story

Spores Home is a co-living and co-working space, a unique housing solution for digital nomads, explorers and locals who cannot afford traditional housing. The owner, Allan Ballester is a French freepreneur, a person, who uses low-cost methods to run sustainable businesses such as a social cafe or a co-living space. With the savings he ended up with from his parents' divorce, Allan purchased a family house in Cullera, a small seaside town near Valencia, and decided to offer it to the people who are in need of a home. The idea or as Allan calls it the human bet is that it is built, maintained, improved and sustained completely by its residents.
Spores Home is a three-story building with a co-working space downstairs, a big and well-equipped kitchen and a bathroom. On the first floor are the three rooms that can host 7-9 people and another upstairs bathroom. The upper floor hosts the main community space with a kitchenette. From there you can step out to the roof with a lush herb garden and a huge dinner table. In addition, there is a smaller rooftop chill area with a great view of the village and the surrounding mountains.
Earlier this year I spent more than a month in Spores, fascinated by the idea of co-living. Allan, the founder doesn't live there, and most of the residents won't even meet him, but I had the pleasure to spend some days together with him. However, setting up an interview was very challenging because Allan's always up to something, be it cutting some wood for the barbecue or finding a new place for kitchen towels.
A self-sustaining, trust-based management model
It really struck my project management-oriented mind that Allan would refuse every kind of model or designed process in operating Spores and at the same time, I was witnessing a sustainable co-living space that is functioning very smoothly.
When I asked Allan about the management of Spores he turned the question back asking how I felt when I arrived. I just recalled the first couple of hours which started with a sweaty 30-minute walk up to the hill in Cullera with my life in a backpack. A friendly girl opened the door and showed me around. I sat down and got into interesting conversations with others. After a few hours, another guy arrived whom I showed around with great enthusiasm. At the end of the tour, he asked me how long I have been in Spores and the answer that surprised not only him, but me as well was "Well, for a few hours." Then Allan stops me and says: "So the answer is that when there is no one to refer to, people will know their way around using common sense."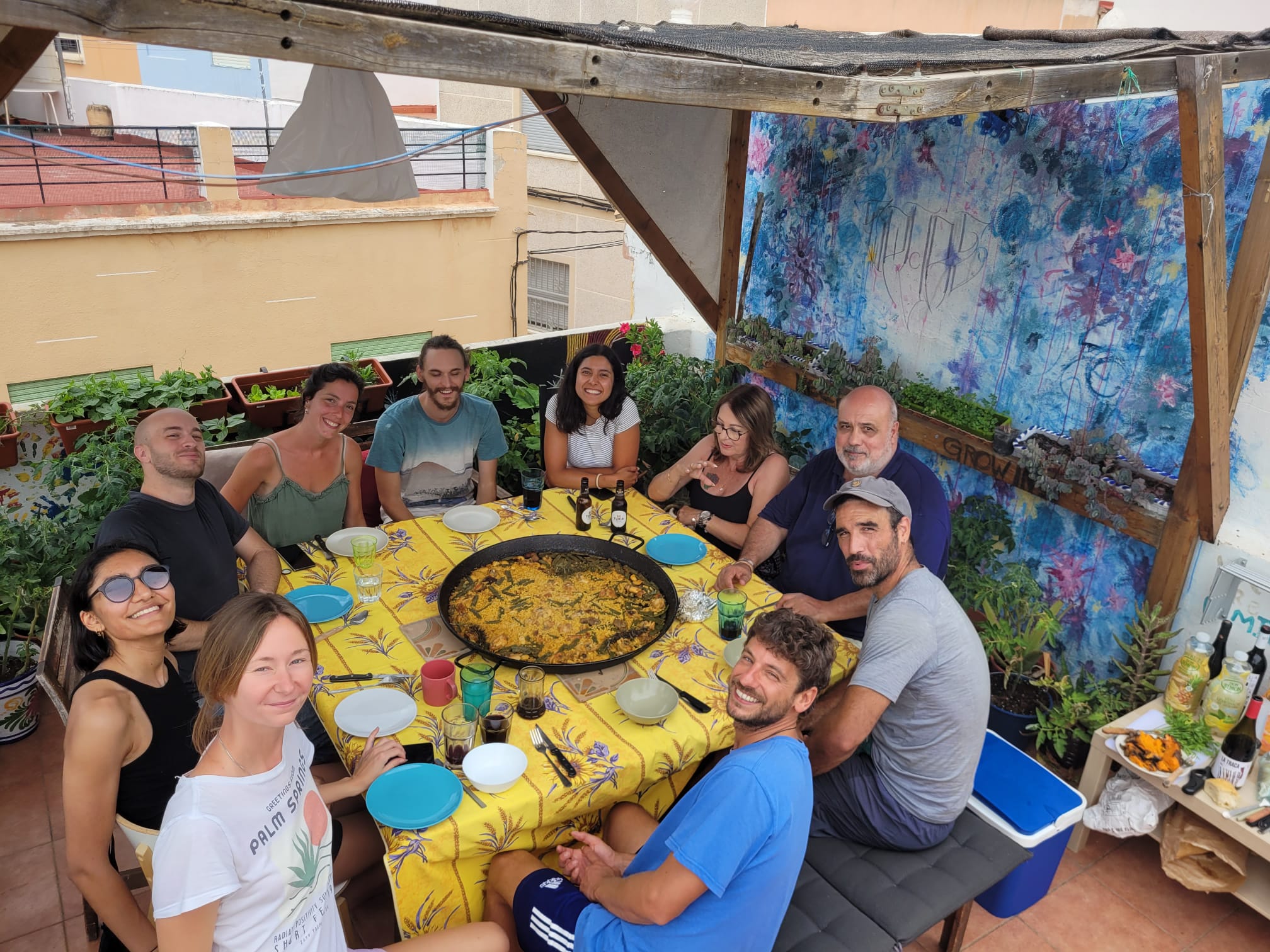 In Spores, there is no on-site management or maintenance or coordination. The community operates on the idea that everyone relies on their own judgement and considers the collective well-being. This is what makes it self-sustaining, it is also something Treasa who has been living in different co-living spaces in the past two years highlights: "I am really intrigued by the fact that the founder isn't here. While at other co-living spaces, there were managers, cleaners, etc. Allan set this place in motion and expects it to work. And it does. When someone sees something that needs to be done they just do it, because everybody understands that it is an ecosystem that only works if we make it work."
Even though there is no traditional management, Spores operates very professionally with PIN codes for entry, and a calendar for bookings, just to mention a few examples. Monday mornings are always very exciting times in Spores, that's when a new Whatsapp group is created where we'd find out who the new people moving into the house are. A little bit like a reality show, just much better and without the guilty pleasure aspect of it. These Whatsapp groups are for general communication where we would get reminders on cleaning duties or about local events.
Allan refers to himself as a concierge. In France, a concierge is everyone's go-to person when something needs to be fixed in the house. Allan creates a framework that allows residents to feel at home, focusing on providing opportunities rather than imposing expectations or guidance. Spores operates based on a mindset rather than a model.
When it comes to decision-making, "It's all done based on common sense." – claims Allan. Routine maintenance tasks are handled by the tenants. For significant repairs involving financial implications, Allan is involved. However, individual initiatives are encouraged, such as Pablo's rooftop pergola project. Pablo is a Valencian guy who was one of the first tenants of Spores and dropped by one day for the barbecue or the asado as my Argentinian housemates would call it. "I had some free time, so I decided to build a pergola on the roof. I did it without consulting Allan. I only showed him the final result and the invoice for the wood because it ended up quite expensive." Such autonomy allows unique additions to the house that cannot be planned otherwise.
The self-sustaining aspect of Spores and its success lies in the community where residents rely on their own judgement and active contribution. The absence of on-site management is compensated by a culture of trust and responsibility, with Allan creating only a framework that allows residents to feel at home and make their contributions. The reliance on common sense, individual initiatives, and a sense of ownership exemplify the essence of Spores' self-sustainability. These are things that make it work in the long run.
The residents: a naturally thriving community
Strangely enough, there is no selection process or criteria for the residents. Spores is open to anyone who understands the mission and values of the place regardless of age, occupation, or economic background.
Future tenants can find Spores Home through various platforms such as Workaway, Airbnb, Hotshowers, Co-living, Google, etc.  Allan claims that the photos, the description and the reviews posted on these platforms attract the right people so there is no need for selection. It is a humble statement: Spores has a well-curated and conscious online presence. The emphasis is on attracting individuals who resonate with the community's values rather than solely focusing on beaches or natural attractions that may draw a different demographic.
In addition to two locals, who are permanent residents at Spores, explorers, travellers and artists usually stay between two weeks and a month. But the community includes neighbours, co-working space visitors, and visiting locals like Paul and Camilla who live close by and come here to grow their own plants or another Pablo, who works with refugees in Cullera and stays with the community on weekends.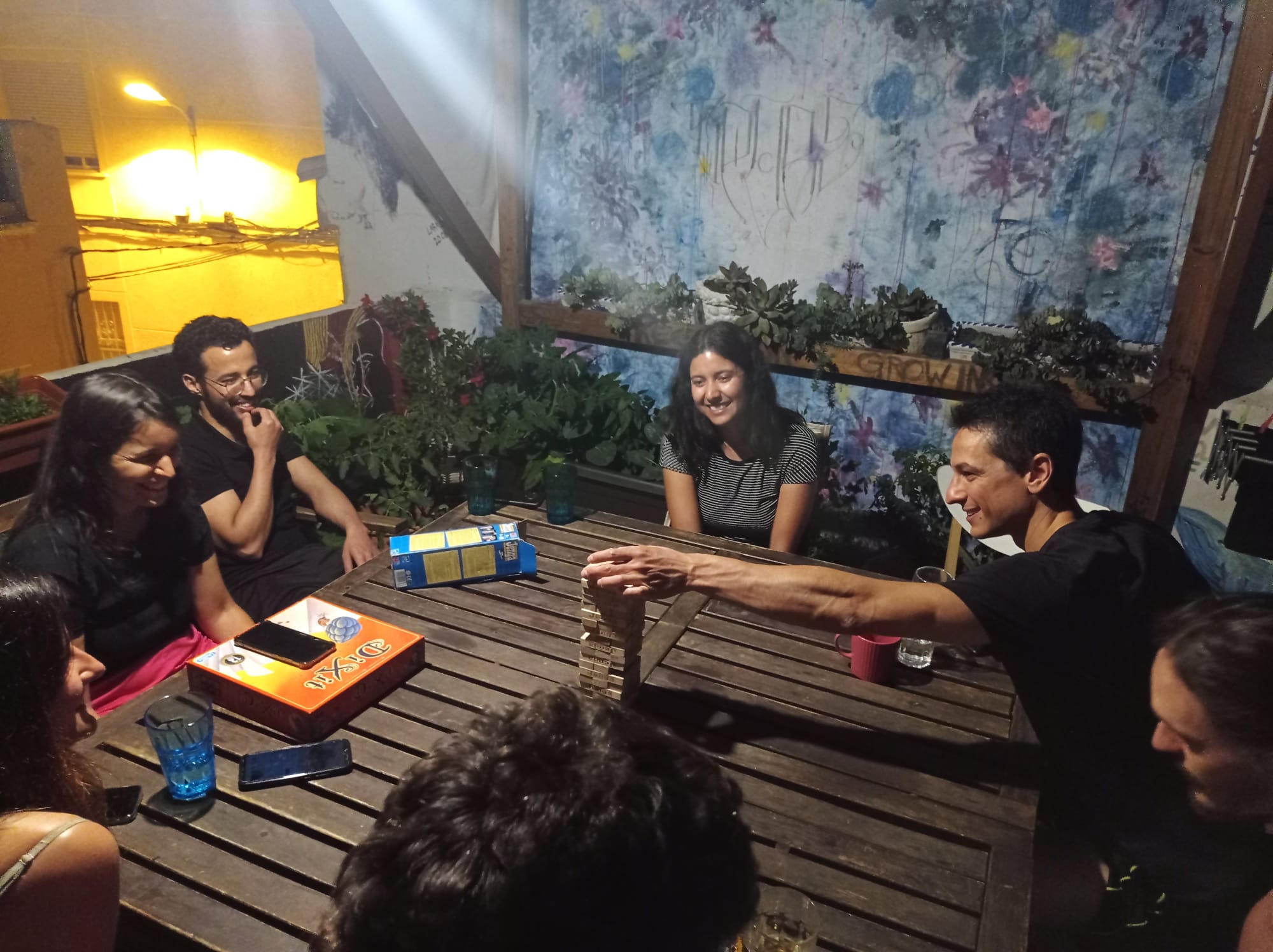 Moreover, Allan initiated many activities in which residents can give back to the local community. These include regular plugging in the parks, saving and redistributing leftover goods from a local bakery, English speaking club and bringing drinking water to the elderly who have difficulty going up and down the steep streets of Cullera in the heat.
This diverse mix of interactions between people contributes to the unique ecosystem of Spores, making it a place of growth and comfort, like a contemporary idea of a home.
The business model: tailored pricing tiers

Spores operates based on various pricing tiers to accommodate different types of residents.
The first tier is the free price option, catering to explorers, travellers, artists, and bike tourers who contribute based on their judgement and financial situation. A suggested contribution is €2,5/night. The free price option is available from a couple of nights up to a month-long stay in a dorm-like room shared among four people.
The second tier is for locals who cannot afford traditional housing. It is an index-based pricing system, where the monthly cost of a room is determined by the average local rent index. During the first half of this year, it was about €200/month for a private room in the house with a shared bathroom. For the locals, there is no time limit, they can stay as long as they wish.
The third tier is designed for digital nomads balancing between affordability and fair pricing with a weekly cost of €120 for a room with two beds. The usual stay for digital nomads varies between two weeks and a month.
The fourth tier targets residents on platforms like Airbnb. Here the prices are very close to the general market of short-term accommodations, but during my stay, we didn't have guests from these platforms. It's for filling the gaps of a few days between tenants.
The co-working prices at Spores range between €5-10/day with individual deals available. There are four workstations in the dedicated co-working space which is open to anyone. The number of free desks depends on the needs of the tenants who have priority. There are additional workstations in the room for digital nomads and the common areas of the house can be used for work as well.
In addition, Spores such as Allan's other initiatives have a Patreon account where donations from previous tenants or supporters are welcome. Allan shares all financial data quarterly with current and former residents and supporters in a newsletter and on social media. This business model covers the mortgage on the property, and all the maintenance costs of the house including the bills, fast internet and other utilities. Actually, in an average month, the income is about 110-130% of the actual costs so it even allows some budget for improvements.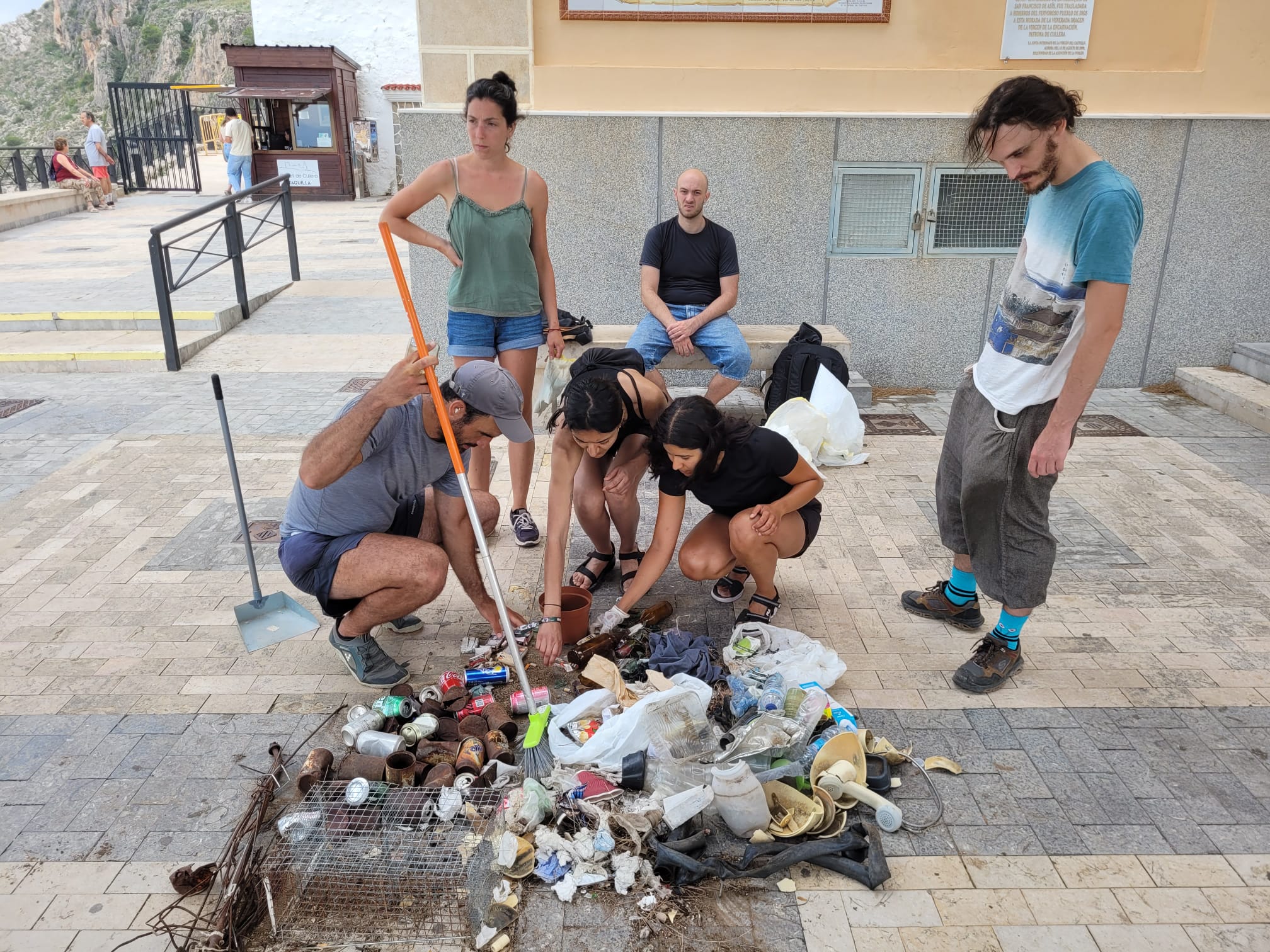 What is expected is written at the entrance. "It is a home for you to make yourself and the home better." There is a sense of freedom and possibility when it comes to contribution. Whether it's through money, physical tasks like building on the rooftop or cleaning, or through creativity like playing music.
Empowerment and collaboration through design
Spores Home with its painted walls, recycled furniture and bohemian vibe may not strike you as an example of conscious design. However, a closer look reveals a purposefully crafted space that caters to the needs of its tenants to build community, encourage sustainability and provide comfort. Allan emphasises that every aspect of its design is a result of continuous iteration and observation of resident behaviour. His approach is based on solving problems through design rather than relying on active intervention since he is not living in the house. Instead, he trusts the power of design to foster the desired behaviours and mindset.
Some of these design choices include removing most of the doors in the common areas and creating visible storage to reduce consumption and food waste. Another great example in the kitchen is the fridge. There is only a tiny refrigerator with a glass door for eight people which seems very inconvenient. Allan tells me that the small fridge encourages people to eat the leftovers because there is no space to store them. And if you can't store it, you might as well share it. And it works! Many of my best memories from Spores include the incredible kitchen parties.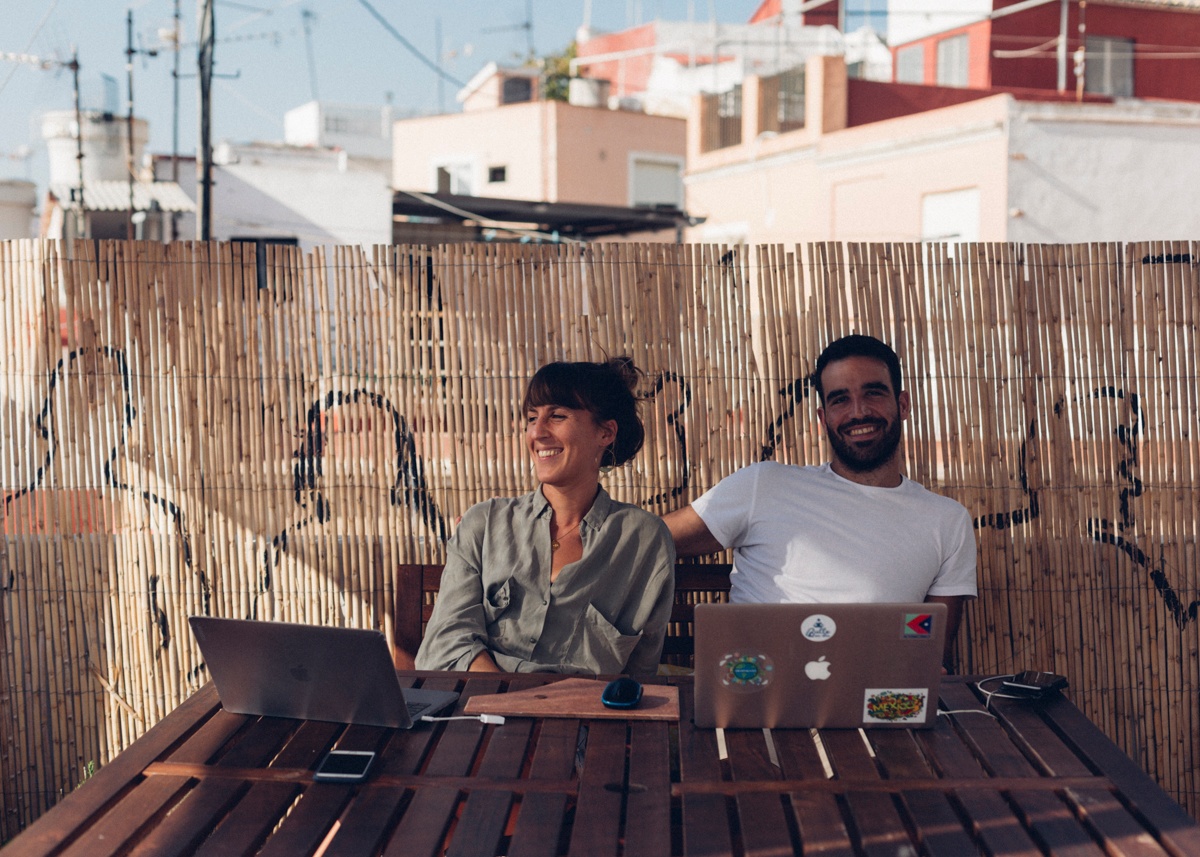 If we step out of the kitchen there are other great common places in Spores. The upstairs community space with its speciality coffee and various local teas and a massive number of board games and sports equipment ranging from yoga mats to weights to balls and snorkelling tools all encourages tenants to go and try out these things that they are surrounded with.
Overall, Spores Home stands as a good example of a self-sustaining co-living space, challenging the traditional norms of housing (and even co-living) and management. Its trust-based approach, collaborative community, purposeful design and adaptable business model create an environment where residents find comfort and a sense of belonging. Spores Home can serve as an inspiring answer to some current housing challenges that bridge the gap between affordable living and a thriving community.
Written by Tímea Szőke