Founded in 2015, magdas HOTEL is not only a cosy, retro-style hotel next to the famous Prater park in Vienna's 2nd district. "Change the world while you sleep" is one of the mottos of magdas HOTEL , the first hotel in Austria that is run as a social business. It is dedicated to the integration of people with a refugee background and helping them overcome barriers at the job market.
Although one might not notice this immediately when entering the hotel and enjoying its homely atmosphere, the main goal of magdas is to train people: the hotel is run by immigrants, former refugees and professionals from over ten nationalities with more than 20 languages spoken. With such a mix of employees, there are many touching life stories shared among them. Building on their successful model, despite Covid-19, magdas is pursuing its vision of upscaling its impact and is currently renovating a second location in Vienna.
"We see potential where others focus on hurdles"
In many European countries, 2015 was marked as the year of the "refugee crisis" characterised by hundreds of thousands of people seeking asylum. While politicians seemed overwhelmed and not prepared to cope with the situation, a passionate group of people in Vienna wanted to take action and contribute to change. "How could business be used as a solution, we asked ourselves", Gabriela Sonnleitner, CEO of magdas HOTEL, reflects. "People with a refugee background speak various languages and have experiences of different cultures, which are important assets in the hospitality industry. Therefore, they are a perfect fit for hospitality businesses" – an industry that has really been struggling to attract workers for many years.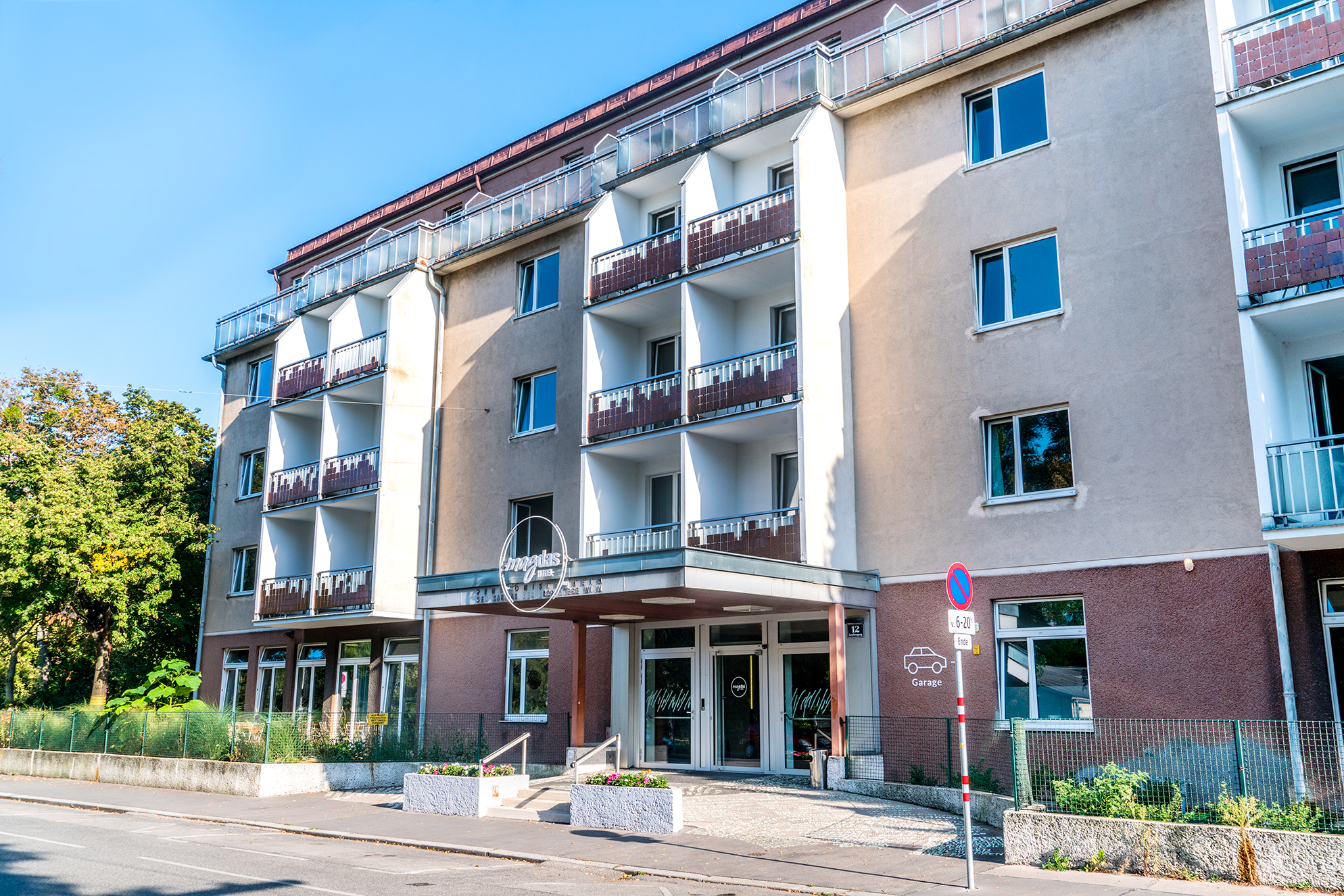 The founders of magdas used the situation as a window of opportunity to do something different: In order to help former refugees in overcoming barriers in the Austrian job market, magdas HOTEL was founded. It was established as an association with the formal purpose of supporting the integration of people with disabilities or refugee background in the Austrian job market. The association is not profit-oriented, its operations centre around the employment and education of refugees.
The concept received a lot of international media attention right from the start, even the Guardian, CNN, Zeit or Huffington Post reported about it as a flagship project. "We hit the nerve of the time. magdas HOTEL was the right project, at the right time, in the right location," remembers Gabriela. The media helped the business tremendously because there was almost no marketing budget. Actually, in the beginning, magdas HOTEL was even better known internationally than in Vienna itself.
Focussing on social integration
Finding a job is a very difficult task when having a refugee background in Austria – not only because of language skills but also because of the resentment of some employers or bureaucratic challenges in the employment process. Refugees are not allowed to take on a job until they have received a positive decision on their asylum application. This may take months or even years and therefore leads to issues of integration. Even after having a legal status, it is often impossible to find a job.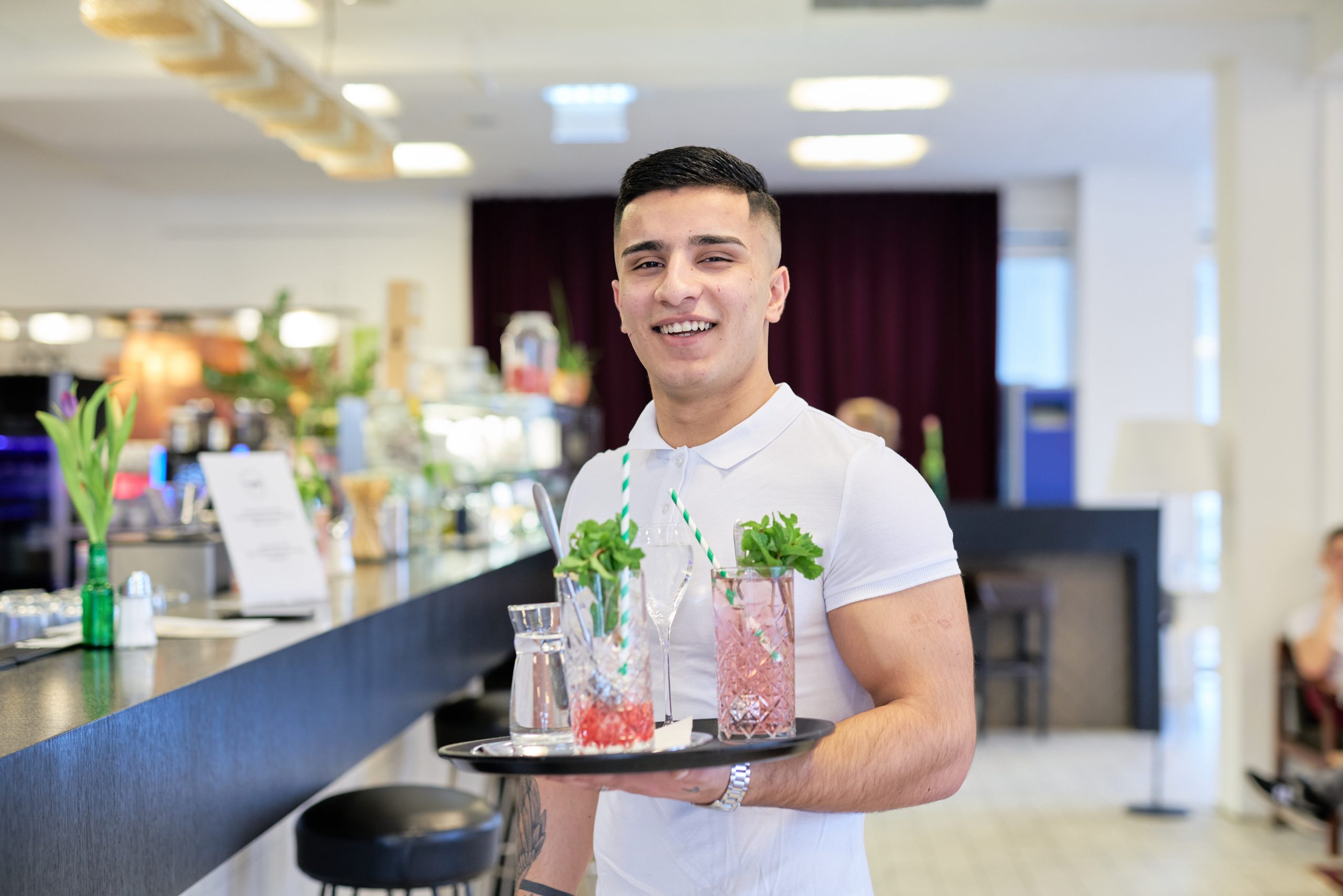 magdas HOTEL creates apprenticeships and jobs for young people with refugee experience. To find refugees who are interested in teaming up with them, magdas works closely with communities, NGOs, schools and councils. Today, it offers 12 apprentices for refugees with a variety of personal life stories. The apprentices are complimented by more than 20 professionals from the hotel industry. In total, more than ten nations from all over the world are contributing to the hotel's unique hospitality. One of them is Guled from Somalia, who came to Austria five years ago. He is currently being trained as a cook and really appreciates working at magdas. "Having a job is important and this is a good opportunity for me."
magdas' different social enterprises
magdas HOTEL is also part of something larger: It is a subsidiary of magdas social business, a brand that was founded in 2012 by the Caritas of the Archdiocese of Vienna. The mission of magdas is to solve social problems by economic means and the focus lies on providing meaningful job opportunities and prospects for long-term unemployed, disabled and migrants. magdas is currently operating in four business areas: apart from magdas HOTEL , magdas ESSEN cooks in Austria's most sustainable commercial kitchen for senior citizens' homes, canteens, schools and kindergartens and offers jobs to otherwise excluded people. Another business part is magdas RECYCLING better known as  "Ö3 Wundertüte", which collects and recycles old mobile phones since 2009 and gives them a "second life". The fourth business is magdas REINIGUNG which offers maintenance cleaning in buildings like retirement homes, office buildings or kindergartens and schools. All of these areas are economically self-sustaining while their ultimate goal is solving a social challenge.
When looking at the numbers, the impact of these initiatives is undeniable: since 2009, more than 400,000 mobile phones were collected and recycled by Ö3 Wundertüte , 90,000 square meters are cleaned by magdas REINIGUNG on a daily basis while around 3,000 portions of food are being served by magdas ESSEN a day. magdas HOTEL currently counts over 190,000 nights booked since its opening.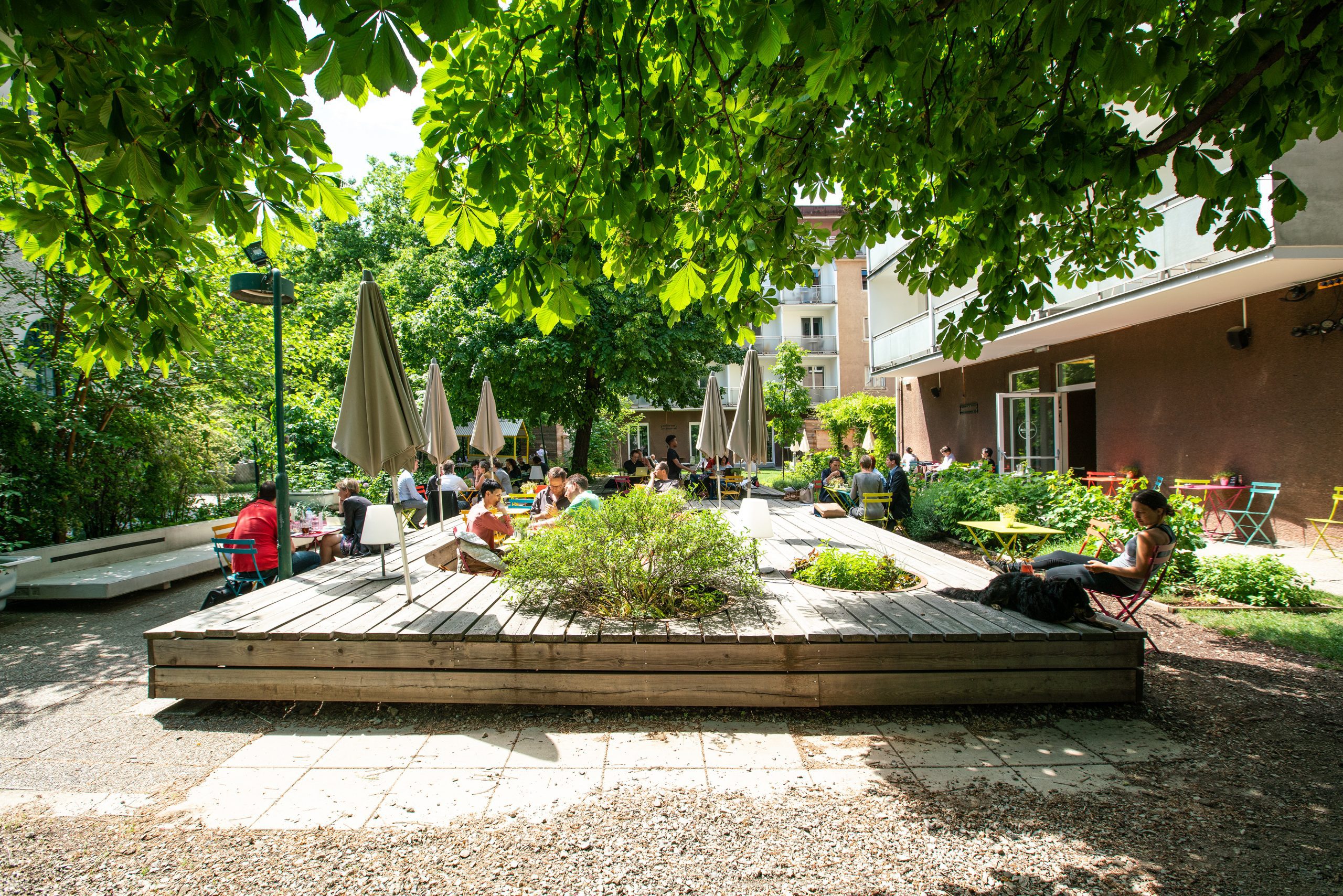 Crowdfunding and upcycling contributed to the start
When magdas HOTEL was launched in 2015, it got a five-year loan of 1,5 million Euro from Caritas and collected 57,306 Euro via crowdfunding. There was only little budget for renovating the location – a former retirement home built in the 70s – but with lots of space for creative approaches the place was overturned: a lot of the furniture was re- or upcycled and many pieces were donated, making every room unique. The 78 rooms are equipped with vintage armchairs or wardrobes that were previously used in compartments of the Austrian Federal Railway trains. Old doors were turned into mirrors, halved chairs can be found as nightstands. Volunteers knitted lampshades and helped turning the garden into a charming city escape. The hotel also houses a restaurant and organises events like art exhibitions to attract the neighbourhood. magdas can be seen as a best practice and highlights that commitment, flexibility and good ideas can make up for little budget – it even received the Austrian National Design Award in 2015.
An attractive hotel in itself
Although job integration lies at the heart of magdas HOTEL , it is not especially marketing this aspect. If they solely focused on the social image, the hotel would not be fully booked. "Most guests are booking the hotel because of its unique style, the location or the attractive rates – rooms are about 80 Euro per night – not because of the underlying concept," says Gabriela.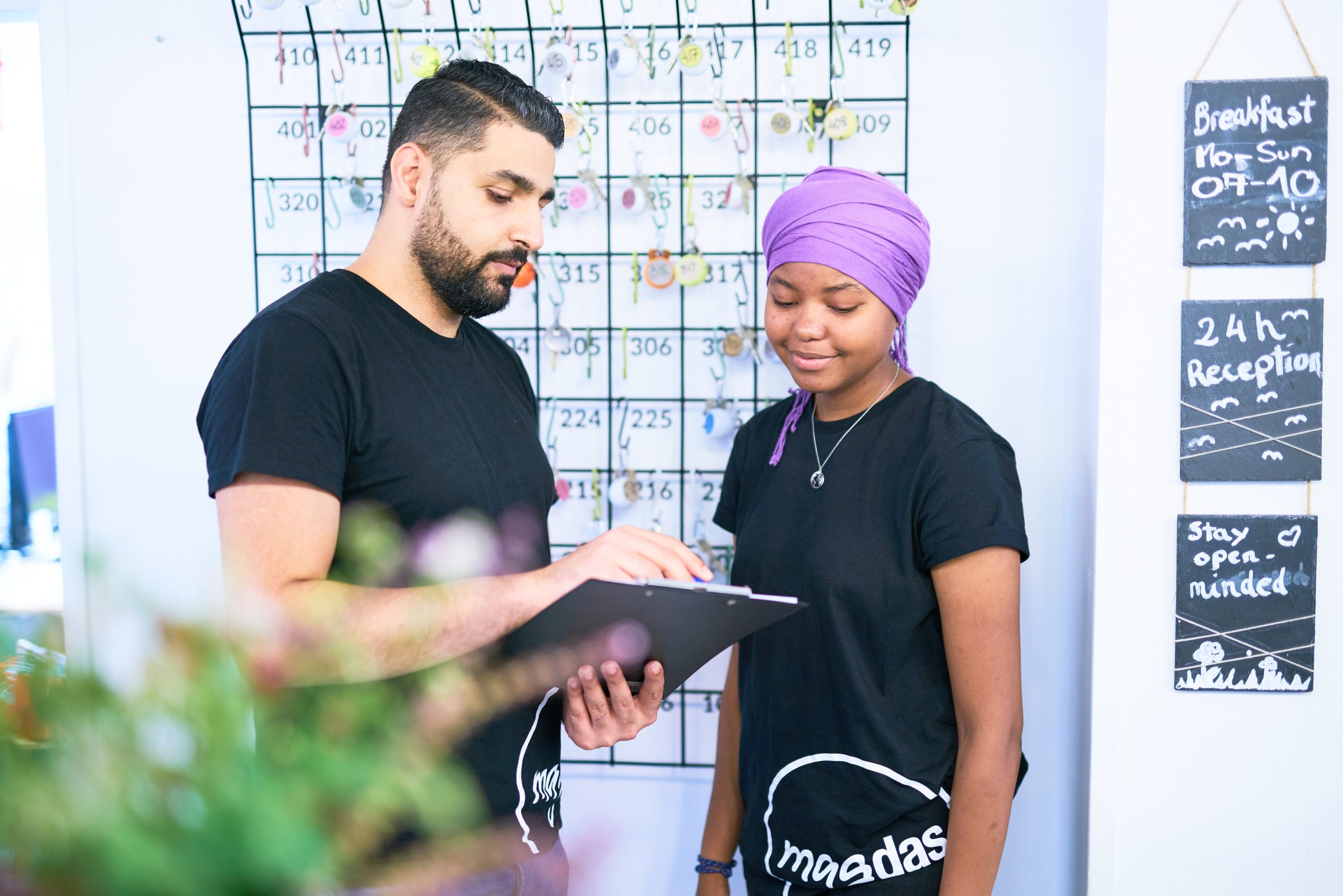 The guests who are staying at magdas are very diverse, ranging from tourists and families who are visiting the city, to business travellers. magdas is also working with a few international cooperation partners and hosts visitors from all over the world. What connects the guests is that they are all open-minded. "We do not host luxury tourists, but those who value our cosy atmosphere and we always receive a lot of positive feedback from our guests."
Plans for the future
magdas aims at implementing its concept internationally, and a lot of other cities and countries are interested. "We have talked to a lot of people about the concept". One magdas restaurant, in Klagenfurt, Carinthia, has been opened by the local Caritas in 2016 and is very popular. However, so far the hotel has not been implemented elsewhere.
"A lot of money goes into educating the staff", Gabriela explains. magdas is also investing a lot of resources in intercultural teambuilding as well as social workers who help employees that are having troubles with housing or other issues. "Everybody has their own history." Many of the employees experienced trauma and are still suffering and need support. "Personnel costs at magdas are about 10 to 15 percent higher than in usual hotels, which is not attractive for those who are interested in profit-making. And for many who would do it out of a social motive, setting up a concept like this is too expensive."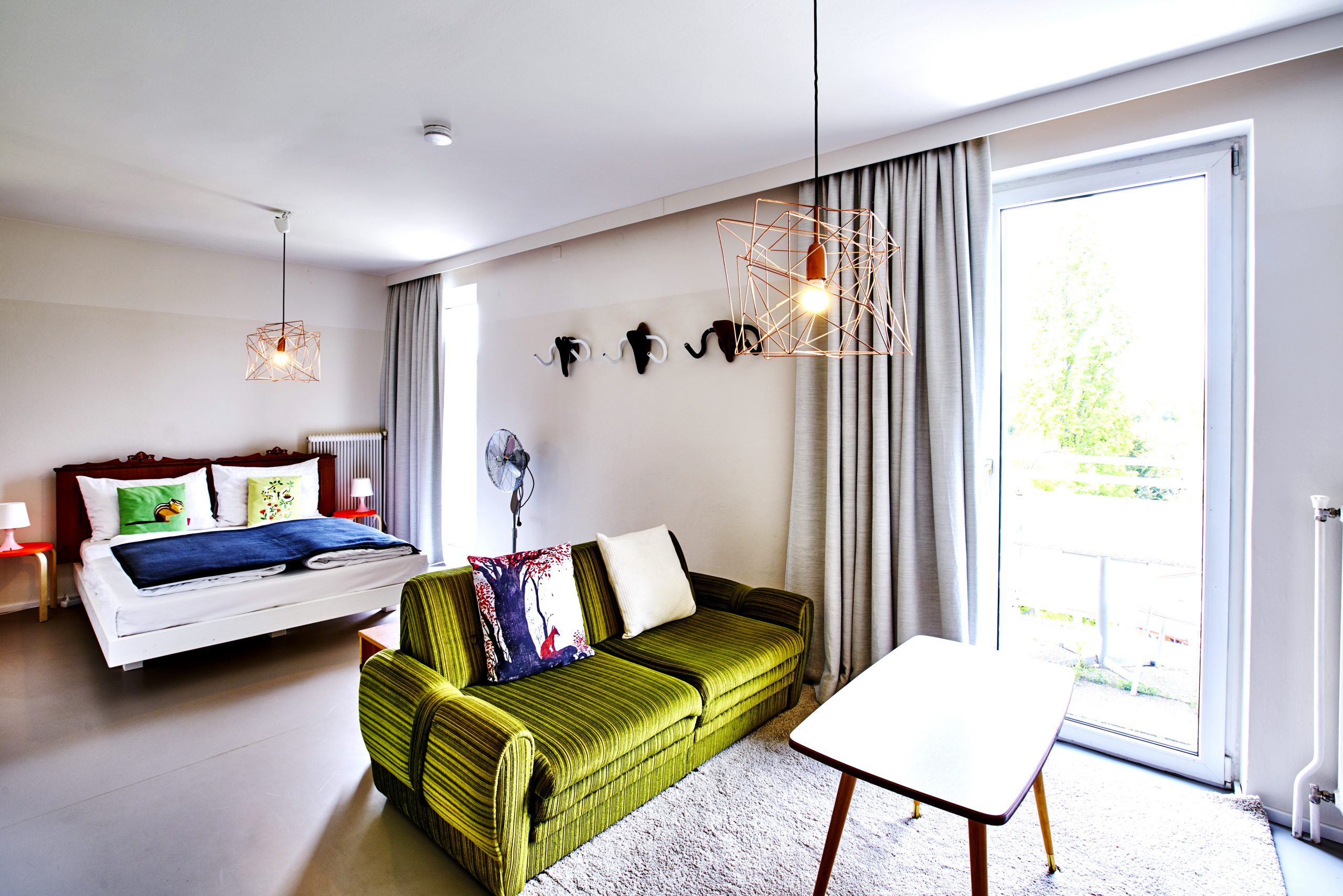 Looking back, the first business years have been very hard, but the team learned a lot and the occupancy rates have increased constantly. The fourth year turned things around and the lasting success proofs them right. "Compared to the early years, we have really professionalized", Gabriela tells us.
The Covid-19 pandemic posed a great challenge for the business as well as for the employees. The hotel had to close for seven months and the employees lost their daily routine and structure while being stuck at home. This was especially hard for those without family in Austria who sometimes needed additional support.
The business model itself has not really changed due to Covid-19,: Today, magdas is not only well known among tourists but has also turned into a meeting place among the neighbourhood. Residents have become regular visitors enjoying the nice garden, the international food and delicious cakes.
A new hotel in the making
magdas HOTEL is currently renovating another location in the 3rd district, a former clergy house from the 60s, to offer apprenticeships for future chefs, receptionists and restaurant managers. The renovation of the 85 rooms will cost about 9 million Euro and is expected to be finished in spring 2022, opening is planned for September 2022. Until then, magdas will decide about how to proceed with the existing hotel in the 2nd district. Initially, it was planned to relocate to the new place and then refurbish the original location. However, this also depends on the further course of Covid-19.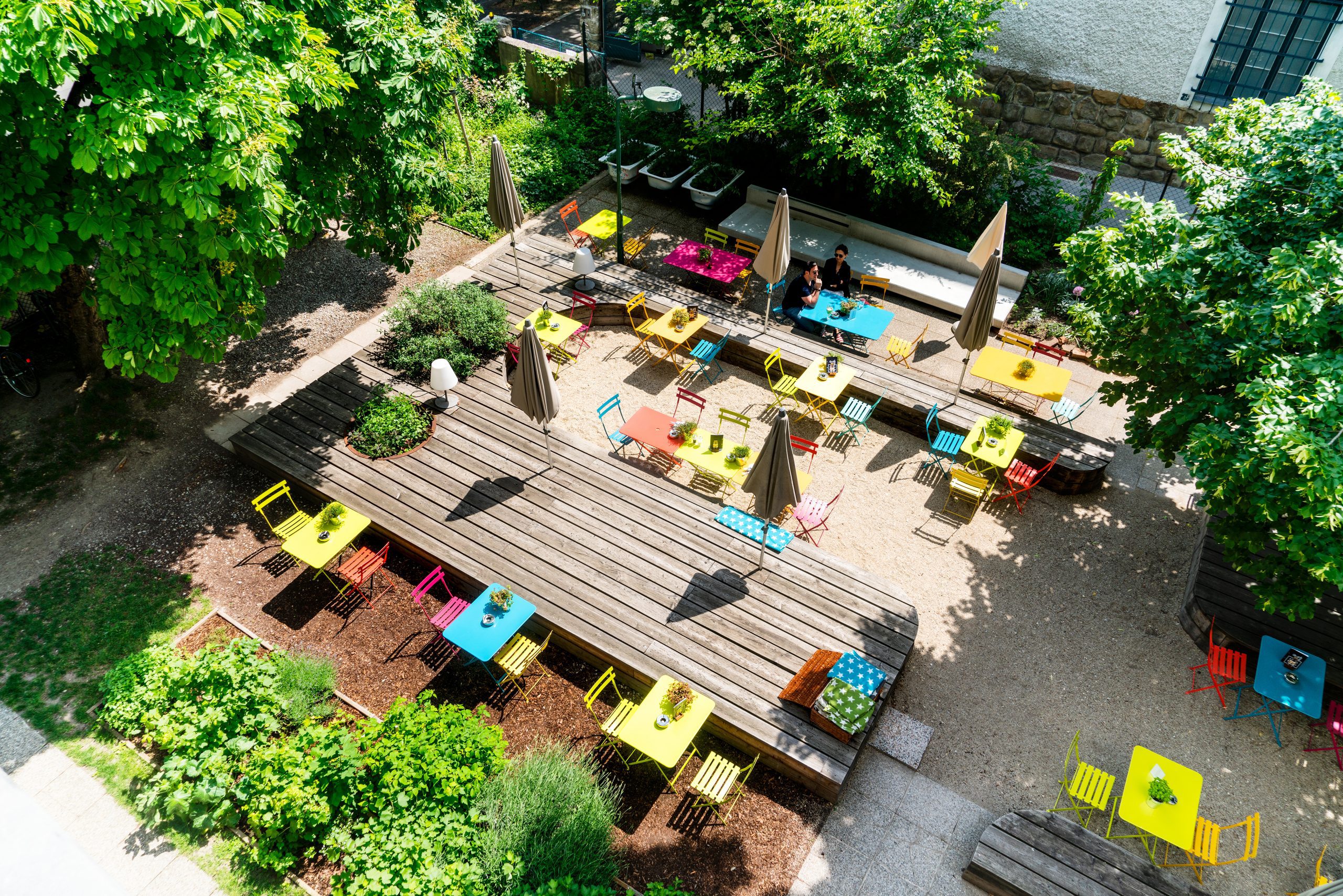 The long-term goal is to grow, increase the impact and be a role model for others. "We want to upscale and open new hotels in other cities" – either by developing a social franchising system or by implementing the concept on their own.
Challenges to financing
To promote the spread of social entrepreneurship and facilitate new ways of doing business, Gabriela demands easier access to financing as well as the provision of public funds and know-how, especially for the first years of implementing a concept. magdas HOTEL was lucky with Caritas in the background, but many others do not have this advantage and are struggling. "Social entrepreneurs need support to try different ideas." Of course, this also means that things can go wrong. "We have tried a project called magdas DESIGN, which did not work out." The idea was that designers develop unique products that are manufactured by people with disabilities. "We would have needed more time and resources to pursue this idea."
With regards to integration, a drastic mind shift and a positive attitude are needed in Austria. "We need immigration, we need to be an open-minded country", Gabriela emphasises.
Changing the world while sleeping has become a reality at magdas – staying there directly supports the integration of people with refugee experience and is a good choice for conscious travellers or curious.
When you or your friends visit Vienna, book your stay with magdas! The hotel has moved in November 2022 to Laufbergergasse 12, 1020 Wien, Austria.  Interview by Christina Amrhein.